Project overview
Sustainable public transport solutions and innovative governance schemes for improving connectivity in Central Europe
Leaving the car at home remains challenging for people in sparsely populated areas close to borders. Too often, there are simply no satisfying public transport offers available. The SUSTANCE project involves a wide range of transport stakeholders to co-design innovative mobility services and governance schemes that will help public authorities to change this. In this process, the partners deploy amongst others customised intervention action plans in pilot regions.
80
%
of the Budget is funded by ERDF
What is the challenge SUSTANCE project is tackling? Citizens living in rural or peripheral areas of Central Europe are facing inadequate connectivity. They face fragmented transportation networks and lack of sustainable public transport solutions, particularly at the cross-border level. In the same time European policies look toward a greener and smarter future, by supporting, among others, actions aimed at promoting the development of sustainable public transport solutions. It is to provide all citizens with equal public transportation services and access opportunities. What will SUSTANCE project do about it? In close cooperation with relevant stakeholders, test innovative pilot actions in cross-border regions of Croatia, Hungary, Italy and Slovenia. (1) We will set basis for introducing a new cross-border train service between Croatia (Pula-Buzet) and Slovenia (Divača). (2) We will introduce a new cross-border train service connecting Italy (Trieste, Villa Opicina), via Slovenia (Divača, Pivka), with Croatia (Rijeka). (3) We will extend until Sopron the cross-border train service linking Austria (Neusiedl am See) with Hungary (Fertőszentmiklós). (4) We will develop demand responsive transport application in Italy (Romagna Region), including ICT application for planning, booking and e-ticketing. (5) We will develop interactive ICT app for Istria Region (Croatia), that will display all private and public transport services in one place. (6) We will invest in a web portal and mobile app to promote and increase the use of railway services and bicycles in Croatia, Italy and Slovenia. (7) We will invest in shared mobility solutions by installing bike/scooter sharing points in Istria region (Croatia). All of these actions will pave the way to the adoption of long-term action plans and solutions.
Project partners

Lead partner
Central European Initiative - Executive Secretariat
Project Management Office
Address
Via Genova, 9
34121 Trieste
Country
Italy (IT)
Web
www.cei.int
Events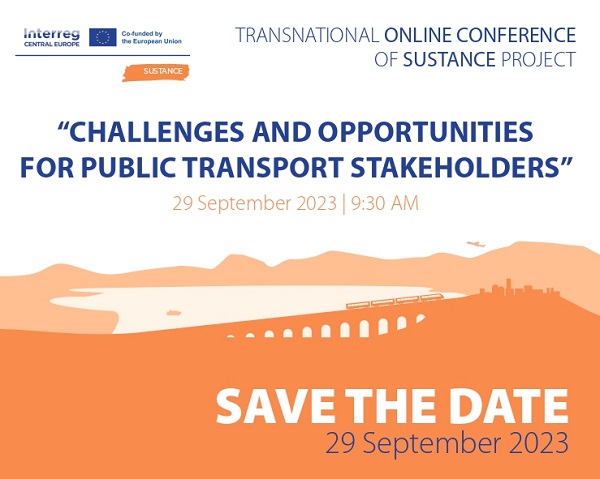 P3 Connected
EVENT
Other
Online
Transnational online conference about public transport
Conference "Challenges and opportunities for public transport stakeholders" will take place on 29 September 2023 at 9:30 CET on Zoom and it will concentrate on rural, peripheral and cross-border areas, having connectivity issues. A high level guest will address the audience, as well as policy makers from four countries.
General presentation materials
Newsletters
SUSTANCE
The project lead partner is responsible for the content of this project website.
Project on social media
Project Contacts
Project Manager
Paolo Dileno
Phone: +39 040 7786769
Finance Manager
Ana Aligrudic
Phone: +39 (0)40 7786 773
Communication Manager
Zrinka Marchioli
Phone: +385 99 7021 598