Project overview
Improving ACCESSibility of last MILE connections of rural and peripheral regions to main TEN-T nodes in Central Europe through ICT
The trans-European transport networks carry a large share of long-distance freight transport across Europe. But connections between the main nodes of these networks and rural or peripheral regions are rather weak, with negative consequences for transport operators. The ACCESSMILE project improves the accessibility of such regions with the networks. To this end, the partners pilot new strategies and action plans to optimise IT processes related to transport flows, gates and cargo bundling.
80
%
of the Budget is funded by ERDF
Project partners

Lead partner
Port Network Authority of the Eastern Adriatic Sea
Special projects unit
News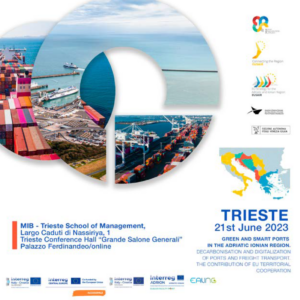 P3 Connected
NEWS
21.06.2023
Sharing knowledge on green and digital multimodal transport across borders
On 21st June 2023 representatives from ports, terminal operators, regional, national and European policy makers met in Trieste to find solutions on how to make freight transport greener and smarter, improving its efficiency for business communities and environmental performance for citizens living in the surrounding territories.
ACCESSMILE
The project lead partner is responsible for the content of this project website.
Project on social media
Project Contacts
Project Manager
Alberto Cozzi
Phone: 00393351515707
Finance Manager
Alberto Cozzi
Phone: 00393351515707
Communication Manager
Simone Pacciardi
Phone: 00390187546377