Geodetic Institute of Slovenia (GI) organized
CE-Spaces4All Kick-off meeting in Ljubljana
between 13th to 14th April. All 12 project partners participated in the meeting. The aim of the meeting was
to present first steps of project activities and to meet participants in person
.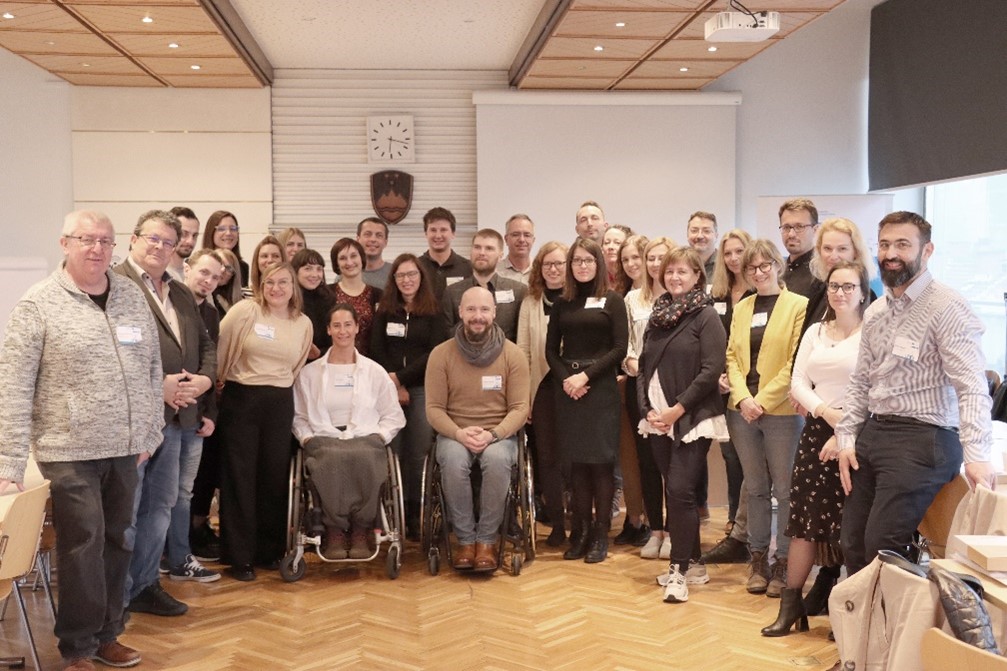 The meeting started with a speech by Chiara Casarella, programme officer at Interreg CE Joint Secretariat. She presented programmes information and express importance of collaboration of the project with CE Joint secretariat for monitoring and to provide support.
The second presentation was about project's management and finance, presented by lead partner Blaž Barborič (Geodetic Institute of Slovenia). Future partners meetings were proposed and reporting/monitoring was presented. Presentation was continued by Communication Manager Jitka Faugnerova (CENIA). She explained communications rules that needs to be follow about project documents (templates, fonts, colors, etc.).
Maja Baloh (Geodetic Institute of Slovenia) presented a plan of activities and deliverables of WP1 until March 2024. Activities in WP2 were presented by BOKU. The last speech was made by Zala County Self-Government (Helga Kovasc) about detailed activities and deliverables regarding the application form.
Second day started with a workshop about different types of disabilities and accessibility, prepared by Philippa Tucker (European Disability Forum).
After presentations, a panel discussion was formed about accessible tourism in general, experience of people with disabilities with travelling and about project potentials. Speakers were: Boyan Bahanov (EDF), Marie Scott (CZEPA), Anton Petrič (Hearing Clubs Association of Slovenia), Vojmir Drašler (Ministry of the Environment, Climate and Energy, in charge of multi-modal mobility for persons with disabilities), Primož Jeralič (NSIOS), Saša Mlakar (Ministry of Labor, Family, Social Affairs and Equal Opportunities, Directorate for Persons with Disabilities).